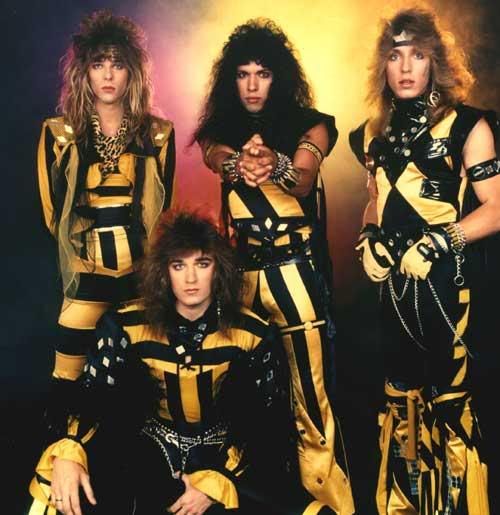 "The Cocaine Hornets" (June, 1987)
l to r: Yohan Lixx (guitar), Frankie Lasers (drums/lasers), Tomasso Gunnzz (lead vocals) "Pretty" Bobby Feather (bass)
The Cocaine Hornets were a notorious Eastern Ohio Roller Derby gang/Stryper tribute band known for their elegance on wheels, as well as their taste for violence.

The original four band members met while employed at the Millersburg Long John Silvers in the summer of '86, and soon formed strong friendships over their mutual passions for shredding, stealing cosmetics from customer's purses, and of course, Cocaine.
The band recorded only one album, 1987's disappointing "Wheelz of Pain", which failed to break onto the charts and received a overwhelmingly lukewarm response from critics. Later that summer, Tomasso got a job as an assistant floor manager at a local Skating Rink. Soon after their wave of terror began.

A former juvenile delinquent and registered sex offender, Tommy was trained in ruthlessness as a lion-feeder in the Albanian Circus as a boy. Circus life was hard on him, his only happiness being the 30 minutes he was allowed out of his cage and permitted to roller skate. Being no stranger to violence, he had the markings of a natural born killer. A perfect candidate for leader of a Roller Derby gang.

The others soon followed, and within a year The Hornets controlled every Rink in the state, squeezing the throats of local business owners and engaging in glam violence all over town. Many refuse to talk about those days. Others recall the Hornet's unique brand of glamour-infused Hooliganism as "Lisptick Extortion". A thing they all grew to fear.

Then came the night of July 12th, 1988 when everything fell apart. Bobby, frantic in the throes of a PCP frenzy, crashed the Hornet's tour van into an oncoming train. All except Tommy died. Bobby lived fast. Tequila in his heartbeat, yet his veins burned gasoline. It might of kept his motor running, but it never kept him clean.

That was many years ago. Since then, Mr. Gunnzz had been in and out of jails and married and divorced a few times. But the head Hornet's sting is noticeably softer in 2009. Today Tommy owns his own Skating Rink, a multi-level entertainment megapark called "Tommy 2000". He owns a cat, listens to NPR, and no longer enjoys doing cocaine or stabbing people. He does still skate occasionally.
(pic via static.metal-archives.com)