Remember the days of classroom film strips? I do. I loved watching them. It really didn't matter what the subject was, I just loved the experience itself. There was something warm and organic about the whole process. The sounds the projector made, the smell of the machine running, the muddled audio...all of it became a strange classroom ritual I became accustomed to and looked forward to. I can't remember any specific films, but somehow they all seemed strangely similar to me..

So I found this strip
on Boing Boing today
called "The Problems Of Drug Abuse" which has some fabulous visual madness, and I thought I'd share..Some of the pics are outstandingly psychedelic. I'm pretty sure they make me want to take drugs instead of resist them...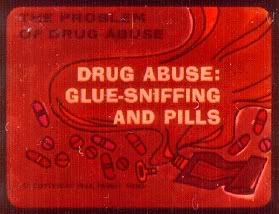 (click the huffers to check it out!)


Then I got Googling, and found this awesome article on classroom filmstrips from the 40's and the 50's. I thought Reagan's "Just Say No" campaign in the 80's was brainwashing, but these are ridiculous! I had to share some of these pics with you all. They range from humorously strange to dangerously racist..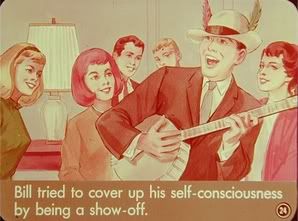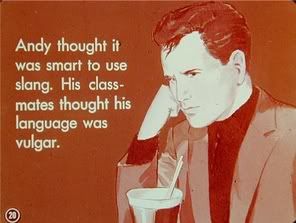 Jesus! No wonder old people are so fucking crazy! Check out the whole article
here
..

For more info on propaganda, check out
Propaganda Critic
.